The Confetti are the original five sugared almonds which represent health, wealth, happiness, fertility and long life. The Confetti symbolize the bittersweet life of a married couple. The Italian Brides are keen to keep the tradition for a sweet treat and of course a bit of luck.
They are used also as wedding favor, once-upon-a-time only with a white organza bags held the white confetti and were tied with a white ribbon. Today, the confetti come in all different colors and flavors, and containers are all shapes and sizes.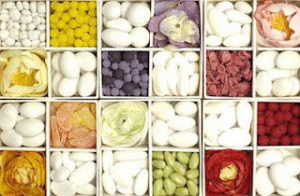 If you want to stick with tradition but aren't keen on the confetti almonds, try five heart-shaped foil wrapped chocolates, or five individually wrapped cookies. These can be placed in a colored mesh bag to complement your wedding color scheme.
If you are looking to keep your table arrangements minimal, try combining your wedding favor with your place name. Perhaps with a ribbon you could attach a piece of card to your wedding favor with your guests name written or printed on it.
This blog has been published in CONFETTI by AURORA FALLINI. LAKE COMO WEDDING AND EVENTS. EXCLUSIVE WEDDINGS. WEDDING FAVORS, LAKE COMO WEDDINGS. PERSONAL WEDDING PLANNER IN LOMBARDY. DESTINATION WEDDINGS. BOUTIQUE WEDDINGS, FAIRYTALE WEDDINGS, GUESTS'S GIFT, CONFETTI