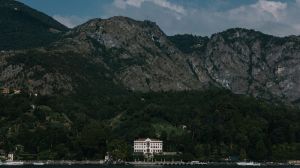 Caroline and John are a lovely couple from UK; I met Caroline and John, one year before their wonderful wedding; actually they were already "regulars" Lake Como visitors…they loved Lake Como and they wanted all their beautiful family being part of an unforgettable day.All the family and friends booked one hotel in Lenno, 4 beautiful days surrounded by the closest and dearest people.
The day before the wedding Caroline and John had a beautiful get together on the lake side, an informal aperitif.
On the big day John with his groomsman had a beautiful Colombo Boat just for themselves, while the guests were waiting at Villa Carlotta.
Caroline and John had a Civil Ceremony in the stunning open air terrace overlooking the lake at beautiful Villa Carlotta.
The romantic Villa Carlotta was built at the end of XVII century facing the Alps and the peninsula of Bellagio. The villa is an important but sober building, with an Italian garden decorated with sculptures, stairs and fountains. The garden-park of Villa Carlotta (about 8 hectares) is a very fascinating place: its favorable position, but also the harmonic coexistence of styles, the variety of plant species, the literary suggestions make it worth a visit.
The ceremony was followed by champagne boat tour on the central part of Lake Como. Whilst the bridal party headed on up to the reception venue, Caroline and John had some beautiful photos in Parco Meyer.
The reception was at a Lovely restaurant over Tremezzo which offers the most beautiful view of Lake Como. I must admit the warm hospitality and the delicious food make this restaurant a wonderful venue for a real Italian experience. Caroline's wedding theme was yellow, a mix of yellow roses with lemons were the right combination for a country chic Italian style wedding.
Caroline and John, to you and to your beautiful daughters, I wish many more years of happiness and unconditional love.
Thanks to James for the wonderful photos
To Pirovano for the beautiful flowers
To Mike and his group for the fantastic entertainment
This blog has been published in LAKE COMO WEDDINGS by AURORA FALLINI. LAKE COMO WEDDING AND EVENTS. EXCLUSIVE WEDDINGS. WEDDING PLANNER, LAKE COMO WEDDINGS. PERSONAL WEDDING PLANNER IN LOMBARDY. DESTINATION WEDDINGS. BOUTIQUE WEDDING, COUNTRY CHIC WEDDING. VILLA CARLOTTA, CIVIL CEREMONY