I met Amy and Russ in January, a sweet couple, coming from Uk. A wonderful and magic day with a wonderful backdrop which will remain in Amy and Russ memories forever.
Amy and Russ's indoor garden wedding was built around the beauty of the Town Hall of Ossuccio, with the background of the romanesque church of Santa Maria Maddalena with the wonderful bell tower and the natural beauty of the Comacina Island in his front.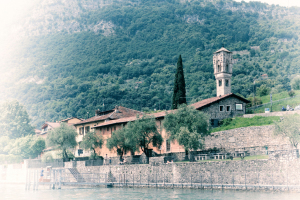 A gorgeous couple who saied YES in the olive trees indoor gardens of the town hall – a sweet intimate civil ceremony in a natural setting.
After the ceremony the guests had a beautiful boat trip soaking some Prosecco while Amy and Russ had time to relax and enjoy the beauty of stunning Lake Como.
A beautiful reception dinner in Varenna on a wonderful terrace. A very romantic and charming atmosphere with the happy end of a traditional English Wedding cheese cake. Dear Amy and Russ,  I hope your life together will be filled with joy, happiness and lots of Love!!
Thank you Ylenia and Lorenzo for this stunning photos
This blog has been published in REAL WEDDING Amy  and Russ's indoor garden wedding by AURORA FALLINI. LAKE COMO WEDDING AND EVENTS. CIVIL CEREMONY. EXCLUSIVE WEDDINGS. LAKE COMO WEDDINGS. INDOOR GARDEN WEDDING, ROMANTIC WEDDINGS, FAIRYTALE WEDDINGS, REAL WEDDINGS, DESTINATIONS WEDDINGS