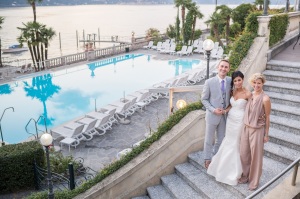 While Internet is great for getting initial wedding ideas, when it comes to pulling off an extraordinary destination wedding, only a creative, informed professional Wedding Planner – with experience and local contacts – can make sure it comes together without any heartache.
Why you should hire a Wedding Planner?
She will help you get the best for your money, a good wedding planner will help you decide what is best for your budget, as she works with local vendors, she will get the perfect service for your wedding.
 A Wedding Planner will save lots of your time, a wedding is a project, and it can be very hard for busy couples organize a destination wedding. A wedding planner will help you to find the best venue and vendors, such as photographer, florist, caterer, hair and makeup stylist, and many others, and save you lots of potential stress and time!
A Wedding Planner will help you in get the best decision at the right moment, with her experience you will be in safe hands as she will help you in your decision
A good Wedding Planner will listen to your wishes and will transform them in to reality, if there is something that cannot be realistic, she will give you an alternative idea to satisfy your requirements.
A Wedding Planner will guarantee a perfect wedding; she will coordinate the wedding and she will have everything under control.
Why work with me?
Because my service is personal and every couple deals directly with me. My goal is to give you the wedding you've always dreamed of, a unique wedding, like you, which reflects your personality and style!
Take a look at what other happy couples have said about me on my testimonial page
You should fully enjoy the day, be the princess and not be worried about details that someone else can handle. Give yourself a first wedding gift and hire a wedding planner. contact me
This blog has been published in WEDDING PLANNER by AURORA FALLINI. LAKE COMO WEDDING AND EVENTS. EXCLUSIVE WEDDINGS. WEDDING PLANNER, LAKE COMO WEDDINGS. PERSONAL WEDDING PLANNER IN LOMBARDY. DESTINATION WEDDINGS. BOUTIQUE WEDDINGS, FAIRYTALE WEDDINGS